John Buchan
John Buchan (or 'JB') was a prolific writer, best remembered for his 'shocker' novel, The Thirty-Nine Steps featuring a hero called Richard Hannay, which has been adapted for film, TV and stage, most memorably by Alfred Hitchcock in 1935. The list of his published books totals over a hundred, and while only about 40 of these are fiction, his spy and adventure thrillers, as well as his short stories, are still in print today. Buchan's historical novels, such as Midwinter, Witch Wood and The Blanket of the Dark deserve a far greater readership, as do his biographies and historical studies, such as Cromwell, Montrose and Sir Walter Scott, which are still regarded as classics of eminently readable scholarship. JB continues to beguile new generations of readers with his exciting adventure stories, supernatural tales and historical fiction, as well as his inspiring example of a life lived for others.
JB was a remarkable human being. Born in the late Victorian era, without money or family influence, he nevertheless carved out a hugely successful writing and public career, and was sincerely mourned by countless friends when he died, as well as by millions who had never known him. His strengths, underpinned by a sincere and unwavering Christian faith, were his intelligence, humanity, clarity of thought, wit, moral and physical courage, a capacity to get on with everybody, from monarchs to miners, and an elegant prose style that appealed to a very wide readership.
He was born in 1875 in Perth, Scotland, at a time when a high premium was put on the importance of rigorous education, religious observance and public service. He was the son of a Presbyterian minister, the Reverend John Buchan, and his wife, Helen Masterton, the daughter of a Border sheep farmer. His father ministered in poor parishes, first on the Fife coast and then in Glasgow.
JB, as he has always been known, began as a youth to write poetry and prose, fiction and non-fiction, publishing his first novel when he was 20. After studying for three years at Glasgow University, he gained a scholarship to Oxford, where he read Classics; after which, he read for the Bar in London, and practised as a barrister. In 1901, he travelled to South Africa to join Lord Milner's famous Kindergarten of clever young administrators, towards the end of the Boer War. On his return to England in 1903, he continued as a barrister and journalist, becoming a major contributor to The Spectator, and published a novel and short stories. In 1907 he married Susan Grosvenor, a woman from an aristocratic English family; the courtship was not without difficulties because of the opposition of his mother. They settled in London, where four children were born between 1908 and 1918.
On his marriage, JB left the Bar to work as a publisher for the firm of Nelson's, an Edinburgh business with also a London office. During the First World War he worked mostly for the Foreign Office, but also served as a war correspondent for The Times for a short time. He became Director of Information (in charge of propaganda) in early 1917, a department which was made into a Ministry in 1918. He later served as a Conservative and Unionist Member of Parliament for the Scottish Universities, and was also twice appointed High Commissioner to the General Assembly of the Church of Scotland. Late in life, he was appointed Chancellor of Edinburgh University.
Although he never lived in Scotland after the age of 20, his heart was firmly in the Lowlands, where his parents had been raised and he and his brothers and sisters spent their holidays. The landscape and people of the Border country are important elements of a number of his novels and short stories. After the end of the war, the Buchans moved from London to the village of Elsfield in Oxfordshire, near enough to London for JB to continue to work there. However, in 1935, he left England for Canada when he was appointed Governor-General and raised to the peerage as Lord Tweedsmuir of Elsfield. He was a hard-working and very popular statesman, travelling all over the country to meet Canadians. He also forged important political links with President Roosevelt of the United States in the lead up to the Second World War. His life was cut short by a stroke and subsequent pulmonary embolism in February 1940 when he was only 64.
Ursula Buchan, 2022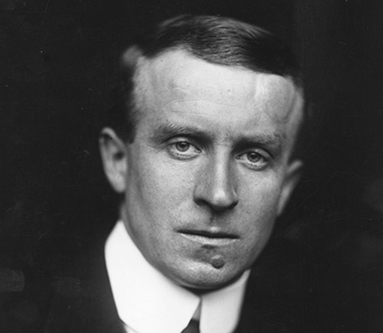 What reviewers said about Ursula Buchan's recent biography of her grandfather (now widely available in paperback):
'Outstanding' John Carey, Sunday Times

'Definitive' Allan Massie

'What shines forth from these pages is John Buchan's generosity of spirit…A wonderfully fluent biography' Financial Times

'Hugely impressive…Magisterial…Provides illuminating evidence of how often Buchan's own life fed into his fiction.'